The 4 phases of optimizing subscription apps
Subscriptions are a growing revenue model for apps. Out of the more than 7 million apps available in the Google Play and Apple App Store, more than 95% are free downloads. In addition to m-commerce, in app purchases and advertising models as revenue models for apps, subscription models are growing, but so far only represent 1% of the total. According to App Annie, this 1% does account for over 91% of total consumer spending in the app store. In 2019, revenue from non-gaming apps from subscriptions is estimated to be $120 billion.
To get the flywheel for subscription apps up and running, there are a lot of buttons to turn and the number of options can be overwhelming. Is it the marketing channels or creatives you are using, is your free trial period too long or too short, is the subscription too expensive or too cheap or do you need to focus on retention and thus reduce 'churn'?
App Marketing Bureau Wuzzon has developed a subscription optimization model that systematically examines all phases of the user journey. Starting with acquisition, followed by activation, revenue optimization and retention and finally win back initiatives or re-activation of users.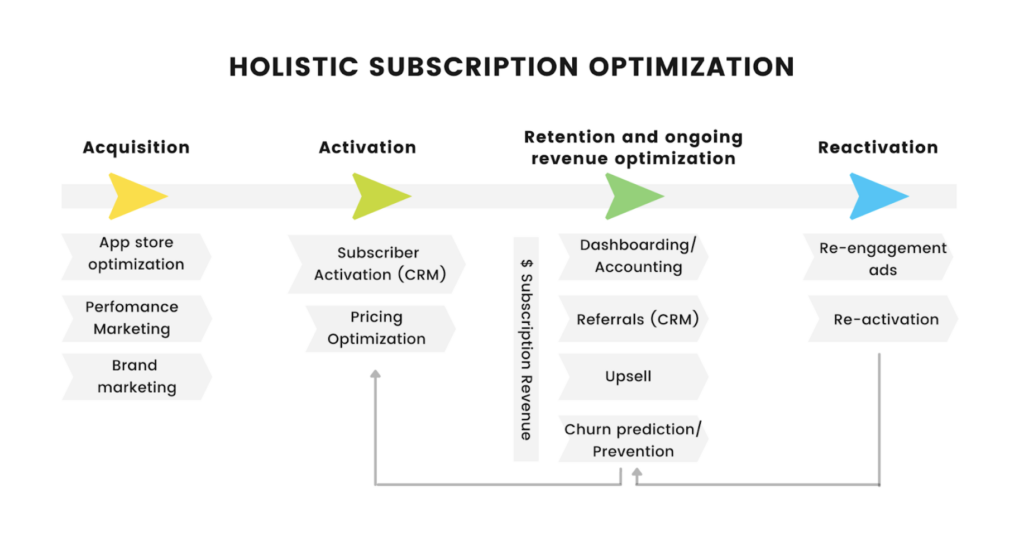 Data driven acquisition
Depending on the maturity level of the app, this phase is crucial. In an ideal world, it is roughly known what a new paying user brings in for life (LTV) and related to that what the cost per acquisition for a new user may be. If this game can be played out, it is a matter of scaling. Based on the data from your attribution tracking or internal BI systems you know which channel, which creatives lead to active users and whether this can be done. Depending on your business goals, such as maximizing growth or margin optimization, you decide whether to go for maximum scale or to focus on the cheapest possible media buying.
If your app is new and these data are not yet known, it is trickier. Make sure your app is optimized for the best possible findability in the app stores and see how you can bring in users organically or with small campaigns in Google App Campaigns or Apple Search Ads to test your assumptions on LTV and acquisition costs. Then, in the next phases, go to work to ensure that an active user brings in more.
Activation
Once the user has installed your app, the task is to convert them into a paying subscriber. Have you been able to present enough differentiation or added value to convince the user to decide for the paid version? Are you doing that right after the install or later when the user has seen more of your app and has had positive experiences with it?
Roughly speaking you can say that more and more subscription apps show the 'paywall' as early as possible in the onboarding process. Often in combination with a free trial, but which only takes effect when you leave your payment details. For example, see part of Duolingo's onboarding flow below.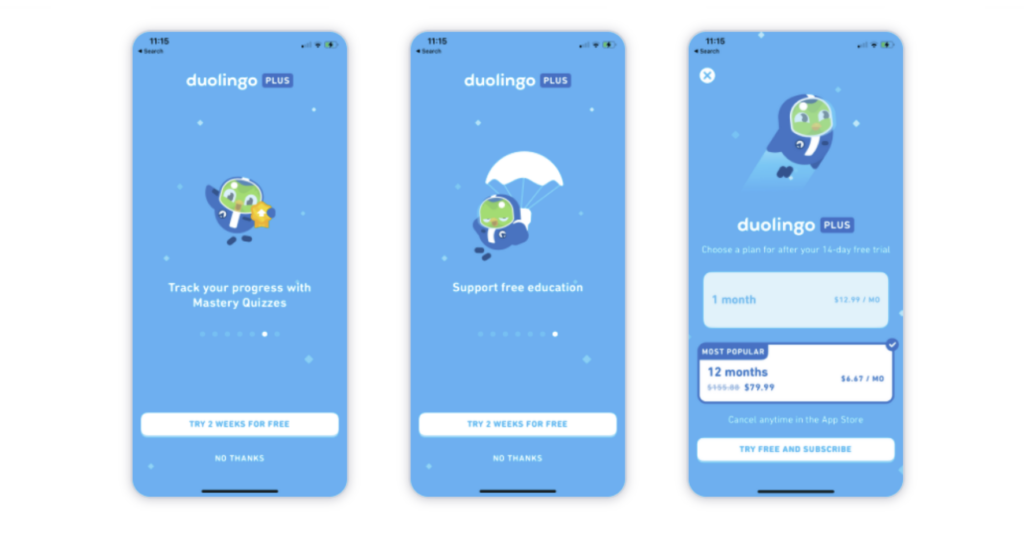 Within apps it is more difficult to set up a/b or multivariate tests than on a regular website. Each time an app is released to adjust a number of variables, the speed of optimization is not improved. To make pricing optimization for subscription apps easier, there are a number of toolings on the market, including for example RevenueCat and Purchasely. This software adds a front-end layer on top of the app, making it easier to set up experiments and achieve improvements in conversion rates much faster.
Retention / accounting
Yessss, the user is so happy with your app and wants to pay for it. Depending on the subscription models, monthly cancelable, yearly or maybe even a lifetime offer to use your app, there is a certain amount of revenue that comes with that. This is a metric to look at to determine the success of your app. Be aware here of the VAT and of course the payments to Google and Apple respectively. The good news is that Google recently lowered these from 30% to 15% for the first year as well.
Monthly Recurring Revenue (MRR) is possibly an even more important indicator of healthy growth. MRR reflects the health and growth of your subscribers and thereby your business. It provides a clearer picture of trends. For example, because Google and Apple pay you out all at once when you subscribe over a longer-term, this is normalized in an MRR view. Where we all hope for a picture like the one below.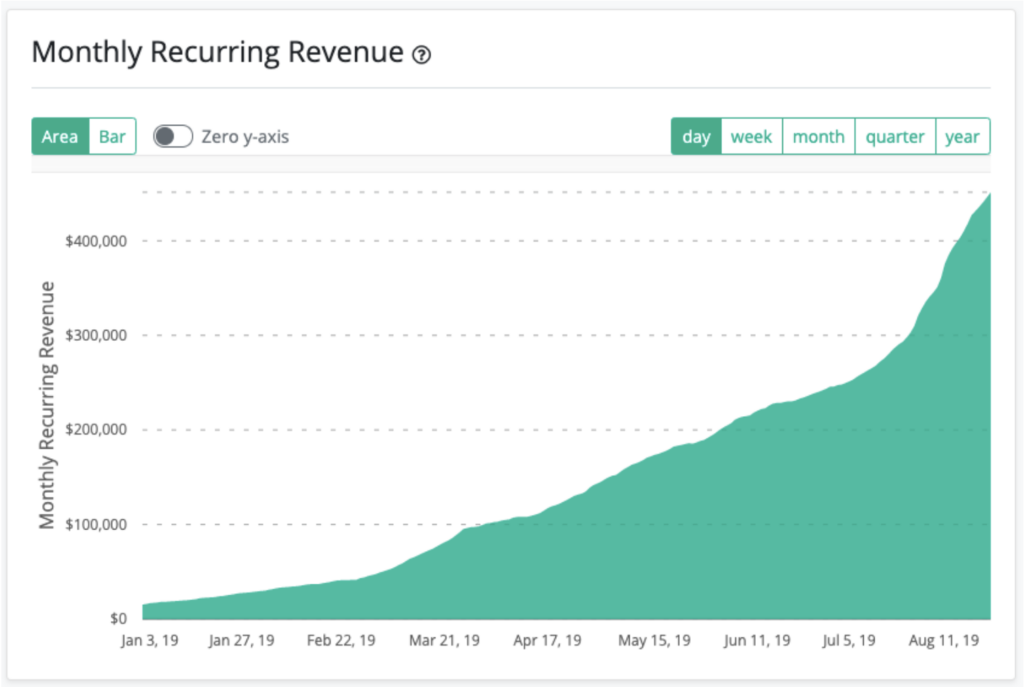 In addition to mapping the various metrics around revenue and LTV, from this phase it is important to keep the user hooked. How can you deliver continuous value to get the user 'hooked' on your app. A good marketing automation or CRM tool can help with this. Predictive attributes in user behavior can be a trigger for a push message or an email to entice users to open the app again.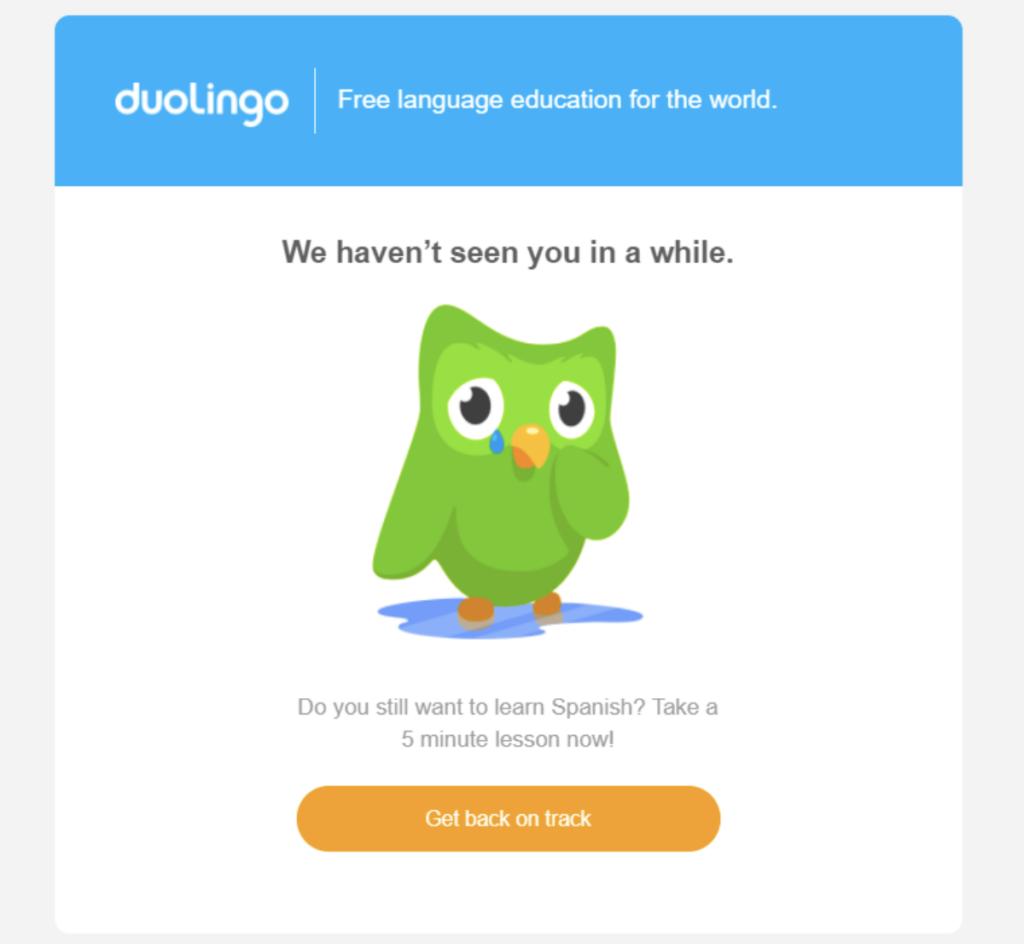 Reactivation
In the world of subscriptions there is always customer turnover. The key is to keep it as low as possible and if a user does cancel their subscription or delete the app completely, check if it is possible to win them back.
Apple has special promotional options for subscriptions to win back unsubscribers. Developers have insight into which user has turned off the 'auto-renew' and can act on this, by actively making this group an offer before the subscription expires.
If you have set up your technology in such a way that you can see when a user ends the subscription, it is advisable to do a survey among unsubscribers about the reason for cancellation. These reasons can provide valuable insights for the product development roadmap and a personalized win-back offer.
Conclusion – get on the subscription train
Across all app categories, the subscription revenue model is growing. And the willingness of consumers to subscribe to apps is increasing. However, the expectations of users are also increasing. They pay, so they want to see value in the form of new content, features and convenience.
Monthly Recurring Revenue is the most important indicator of success. If you manage to acquire new users for less than the final Life Time Value, then you have a predictable and scalable business. Optimizations are needed here at all stages of the user journey. The model above can help you prioritize where the biggest wins can be achieved and what tooling is required to do so.
Happy scaling!