Social Media Marketing
Around 2.82 billion people use social media and open an average of nine apps per day. Cell phones have become more and more influential in our lifestyle, where they are used by the average user for approximately three hours and 15 minutes of the day. This just goes to show that social media is an important addition to the overall strategy of any app marketer.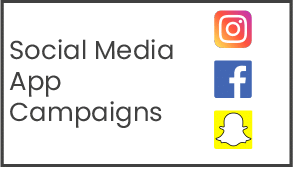 What is Social Media Marketing?
With so many users choosing to spend their free time on social media, you have more options than ever to engage an active audience. While this may be the most popular reason to develop Social Media Marketing for mobile apps, there are several other ways these tools can serve your business goals.
Compared to more traditional channels, there are two main benefits to Social Media Marketing that help with all of the following:
Easy to use: These channels provide a unique opportunity to convey your message in a user's preferred environment. 
User influence: Social media channels allow marketers to leverage word of mouth and user-driven positivity. While other channels can be extremely effective on their own, social media marketing offers these benefits like no other.
This should also be noted when developing your Social Media Marketing strategy for mobile apps.
Why choose Social Media Marketing?
A recent study from AppsFlyer revealed that social media platforms such as Facebook and Twitter are more effective than other mobile app marketing strategies. The report also found that there are three critical app marketing metrics that can be improved using Social Media Marketing: user quality, conversion rates, and download amount.
Social Media Marketing is, to some extent, a level playing field for marketers with equal opportunities for all. Social media not only provides a cost-effective method to create a buzz around apps, but also helps users discover new apps for brand recognition.
Social Media Marketing on Facebook
Facebook is at the top of the food chain when it comes to Social Media Marketing. It's the king of this industry and is probably the first place you should start marketing. The reason why Facebook is so important is because they have the largest user base compared to other platforms. Facebook has its own audience network, in which Instagram is also included in advertising.
Having a Facebook page for your business and mobile app is 100% necessary. It doesn't matter what kind of app you have or what industry you are active in, as long as you have an active presence on Facebook.
Social Media Marketing on other platforms
Social media marketing is of course not limited to the Facebook audience network. Snapchat and TikTok have recently set up their own special advertising module to effectively promote apps. If your app is aimed primarily at a young target group, these platforms are ideal.
What can Wuzzon do for your Social Media Marketing?
Wuzzon's social media specialists offer two services: one in which they completely start a social media campaign from scratch, setting up campaigns and dividing budget on the platform expected to offer the highest return on investment, and optimize accordingly. They can also take over an existing campaign and optimize it towards the most active users and maintain scaling for new users, and avoid stagnation.