Google App Campaigns
People are reaching for their mobile phones every day to help get things done, and mobile apps help to deliver the needed services. With Google App Campaigns you can market your app and bring it into direct contact with more consumers.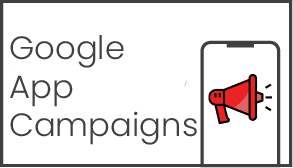 What are Google App Campaigns
Google App Campaigns (formerly known as Google Universal App Campaigns or UAC) are mobile app ad campaigns that can be used to reach consumers on Google's digital sites to drive up app installs and in-app actions.
Google App Campaigns ranks similar with Apple Search Ads in the Top 3 best ad networks for mobile app downloads, partly thanks to their easy set up. The Google App Campaign dashboard offers insights in data which happens after the install, without necessarily needing an attribution tracking platform, which means that no third party needs to be engaged for this service.
Placing Advertisements in Google App Campaigns
Google App Campaigns, together with Apple Search Ads, is the only other network that have direct spots available in the App Stores. With Google App Campaigns your advertisements are shown in the Google Play Store, in Google apps, on Youtube, and in Google Search results. This offers a wide reach and provides insights and targeting options regarding your perfect target group.
The Google App Campaigns algorithm
With Google App Campaigns, the optimizations and placements of the advertisements are analysed and determined by a fast-learning algorithm. When a campaign starts, it takes the Google algorithm some time to optimize and figure out where the ads lead to the best conversion ratio. This requires more patience and budget from the app owner, but leads to nice results in the end.
What are the Pros and Cons of Google App Campaigns?
Pros:
Traffic directed to Android users
Brand recognition and brand protection
Self-learning algorithm for the best results
Precise targeting of your target audience
Cons:
The campaign has to take its time at the start, which takes time and requires a larger budget
Optimization is automatic, with little options to influence where an ad is placed
Keywords can be expensive with high competition
Wuzzon's services with Google App Campaigns
Wuzzon's specialized Google App Campaign managers are responsible for the media spending and optimization of Google App Campaigns. They optimize for the best return on investment and to the most active users. These specialized campaign managers optimize, scale, and test new opportunities to ensure that the campaign does not stagnate after the initial launch, and enable your media budget to be spent on only quality installs.
Want to know more about the difference between Google App Campaigns and Apple Search Ads? Read it here!