Apple Search Ads
iOS app users are valuable customers with often a higher return on investment as app consumers. In order to target users directly in the store, Apple offers the Apple Search Ads marketing platform to target users on search queries and keywords.
"65% of iOS installs occur directly after a search in the Apple App Store"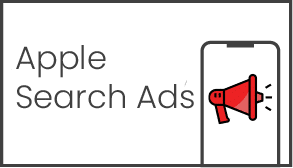 What is Apple Search Ads?
While Google App Campaigns, previously known as Universal App Campaigns, offered marketing services for Android and iOS users in the past, iOS advertisement was only a part of their services. Since the launch of Search Ads in the Apple App Store for iOS in 2016, App Store marketing strategies have had to adjust to the extra potentials that ASA offers. While it took a few years to expand throughout the world, Apple Search Ads specializes to only iOS users in the Apple App Store, and has therefore become a valuable platform in mobile app marketing.
Targeting through Search Query keywords in Apple Search Ads
Being able to concentrate on App Store advertising allows app owners to target on offering supply to demand through the use of search queries, and extend their recognition reach by brand marketing. Any iOS user who is using an advertiser keyword in their search query, will be led in the search results to the apps that advertise on these keywords. Since these advertisements are placed on the top of the page, iOS users see these apps before seeing the normal results of their search query.
Brand Recognition in Apple Search Ads
For up and coming apps, Apple Search Ads offers the opportunity to promote the app in brand recognition. Advertising on many different keywords that are applicable to the app allows Apple App Store users to explore new, unknown apps. Apple Search Ads offers app owners a way to acquire new users.
Brand Protection in Apple Search Ads
With so many apps available, many search queries lead to similar apps. This is why Apple Search Ads offers brand protection for your app. While it may seem like app cannibalisation to advertise on one's own app name, this option protects an app from competing advertising strategies.
Apple Search Ads with Tracking Attribution
The Apple Search Ads platform offers insights from impression to an install. However, in order to have insights on the full value of Apple Search Ads traffic after the install, an attribution tracking platform needs to be integrated.
What are the Pro's and Con's of Apple Search Ads?
Pro's:
Traffic specialized for Apple App Store
Brand Recognition
Brand Protection
Keyword searches (broad or exact matches)
Identify best performing keywords
Con's:
Limited insights after the install
Only creative available that are used in the Product Page in the Apple App Store
Advertising on Cost per Tap (click), or towards a Cost per Action
Not available in all countries
Wuzzon's Apple Search Ads Services
As certified Apple Search Ads partners, Wuzzon is responsible for the media spend and optimization of the Apple Search advertisements in the Apple App Store. We optimize the spend to the best Return on Investment, and to the most active users. Our specialized account managers optimize, scale, and test new possibilities to make sure that the campaign doesn't stagnate after the initial start, to ensure that your media budget is spent on quality installs.
Apple Search Ads in combination with ASO and GAC
Furthermore, Apple Search Ads works exceptionally well with an optimized app for the Apple App Store through App Store Optimization. Apple Search Ads is also very compatible with Google App Campaigns, for an in-App Store marketing strategy for each operation system.