App Store Optimization
If you want to grow with your app, high rankings are a must. Both in the top lists of Apple App Store and Google Play Store. App Store Optimization (ASO) is the best way to achieve this. We look for the best keywords and other data to improve your rankings and attract more consumers. That turns clicks into downloads and users into happy users.
"65% of installs on iOS and 80% on Android occur directly after a search in the App Stores"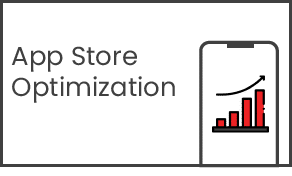 What is App Store Optimization?
App Store Optimization, also called ASO optimization, increases the visibility of your app in the app stores. For example Apple App Store and Google Play Store. You can compare it with SEO (Search Engine Optimization). This increases the findability of a website in search engines such as Google and Bing. That attracts more visitors.
As an App Store Optimization company we optimize the metadata, advertisements and visibility of your app. We also do App Store keyword optimization. All this increases the conversion rate. So people do not just click on the app, they also download it on their device.
Why App Store Optimization is a good investment
ASO optimization is valuable in several ways. First of all, it increases the visibility of your app in the app stores. This allows the algorithms used in the app stores to properly register which services your app offers.
Your app also ranks higher for certain keywords on the Search Engine Results Page (the SERP). This means that your app will appear on the results page when visitors enter search queries in the app stores. You will also appear in the 'recommended app' sections in similar apps. Did you know that about 65% of iOS app downloads and 80% of Android app downloads come from app store searches? Therefore, ASO optimization is extremely valuable and builds a strong foundation for your app.
Finally, App Store Optimization increases the chance of being found through searches in the app stores. This allows you to attract more consumers, without spending more on ads. In the long-term, this saves a lot of ASO marketing costs.
App Store Optimization Services
Our App Store Optimization consultant analyses your app using the analysis tool AppTweak. Together with you, he discusses what is needed to increase the ASO score. We do everything we can to rank your app as high as possible. That is why our App Store Optimization services are very broad:
An extensive keyword analysis for different operating systems (Google Play Store and Apple App Store).
Competition analysis so you know what your competitors are doing.
Metadata suggestions so you can use all the metadata options that the app stores offer.
Tips and tricks for better reviews and higher ratings in the app stores.
The latest knowledge about creating advertisements that ensure that visitors actually download your app.
Practical advice every month based on the results of the previous month.
ASO Google Play Store vs. ASO Apple Store
You can download apps from various places. Google Play Store (Android) and Apple App Store (iOS) are the biggest app stores. We see clear differences between users. This requires a special approach within ASO marketing. For example, iOS app users are valuable customers because they often spend more money than Android app users. We use Apple Search Ads to reach them directly for specific searches. With Google App Campaigns we connect your app with Android users.
Pros App Store Optimization marketing at Wuzzon
Grow at the best investment. It is always nice for you to save costs.
We do it together. We do what we do best, but you are in control.
Hungry for more. The journey of your app is endless: every day we look how you can rank even better.
Always on the hunt for smiles. Happy app users are our final goal. They put a smile on your face and give us a cheerful team at the office.
Growing with ASO agency Wuzzon
Every app is unique. So there are also opportunities for your app in Google Play and Apple App Store. Talk to our ASO consultant and App Store Optimization expert. Our crew is anything but aso. They tell you exactly how you can beat your competitors. Do you want to know your growth opportunities? Please contact us or request a free ASO marketing quick scan.
Meanwhile, our ASO consultants will make you happy with even more info about ASO App Store. Our blogs are full of them!